I Miss You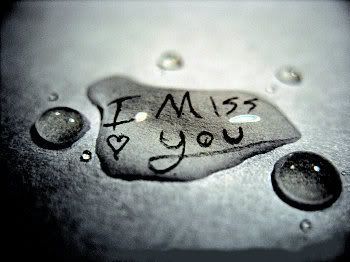 Walking through life and all of it's phases,
Never once thinking you would someday not be a part of it.
Taking for granted your companionship and love,
Then in desperation searching for you and missing it.
People do walk in and out of your life
Some though stay forever embedded in your soul.
They've left bruises, or warmth there
and you know their memories will never let you go.
If it's better you forget, then you try hard to.
If it's death that's taken them, you try to wait then patiently.
But whatever the reason behind this separation,
There is always that something that is lacking painfully.
For some it is just distance, miles spread between.
Roads that fail to carry letters or calls back and forth.
For others though it is misunderstanding, hurt feelings, a grudge,
That refuses to just let go; Oh, but is this what pride is worth?
You who I miss, every hour of every day.
You, there, you know who you are...
I am sorry we must be parted at all in this life
And I wish you were here now and not so far...
away from my home, or my heart...
Copyright2009:@{LesNSpired—-